News
News, upcoming events and exhibitions
Events, Workshops and Exhibitions Autumn 2019
13/08/2019
September 11th SKETCHING SKIBBEREEN 10.30am -1pm €30
As part of the Taste of West Cork Festival in September and in conjunction with West Cork Crafts in Skibbereen I will be holding a drawing and sketching morning around Skibbereen. Suitable for all abilities and materials are provided. All the details and how to book can be found here
Classes and Workshops
(link) on my website.
September 13th-15th ART EXHIBITION
The Studio, Lisnabrinna, Rossmore, Clonakilty, Co. Cork, P85 CY86
Myself and fellow artist Susan O'Regan will be holding an exhibition of our paintings at our Studio near Ballygurteen. This exhibition will feature new work form both of us so a great chance to visit our studio as well as purchase a lovely piece of art. I will be including some of my watercolour mini's and unframed sketches so there will be something to suit all budgets. NOT TO MISSED!
Private View Friday 13th 6-8.30pm Saturday 14th 10.30am-5pm, Sunday 2-5pm
Please get in touch via the
Contact Page
(link) if you would like an invite to the Private View on the Friday evening. All welcome on Saturday and Sunday.
September 15th – 28th HORSE IN ART EXHIBITION & BOOK LAUNCH
This year is the 40th anniversary of the Society of Equestrian Artists Annual Open Exhibition. To coincide with this milestone the society are also publishing a book which features all the artists (myself included) and a history of the society so far.
The Annual Exhibition takes place at the Sally Mitchell Gallery, Tuxford, Newark, Notts, NG220LA and I have two paintings included this year 'Morning Has Broken' and 'Running Free' both of which are here on the website and can be reserved before the exhibition opens by
contacting me
direct or purchasing when the exhibition opens by contacting Debbie admin@equestrianartists.co.uk or the gallery.
October 2nd & 3rd ART CLASSES AUTUMN TERM
Wednesday night art classes will start on October 2nd 7.30pm -9.30pm and run for 7 weeks. €80 Limited to 10 places so book early! This class is structured and suitable for all.
Thursday art classes will start on October 3rd 10.15am – 12.15pm and run for 8 weeks. This class occasionally has a space and is best suited to artists with more experience.
All classes can be booked either by phone 023 8838048 or 086 2747640 or via the 'Contact page'
Misneach and the UndersARTersorders public Art Project
12/08/2019
The UnderstARTersorders project was officially launched back in April on a cold windy race day. All the artists were present and spoke about the inspiration for their creations. In all there were 21 horses decorated by some of Ireland's finest artists to be sold in aid of the two charities the Irish Injured Jockey's Fund and Sensational Kids. Following the launch the horses were to be seen all around Kildare and at various race meetings. My horse' Misneach' was on display at the Irish National Stud who bought Liz Kavanagh's beautiful horse 'Minoru'. I was delighted that Misneach was subsequently chosen as one of six to be auctioned on Derby weekend at the Curragh at the end of June. The auction was part of a charity dinner with invited guests and in all over 100,000 was raised. Misneach was sold for 13,500 to Derby sponsors Dubai Duty Free who also purchased Eamon Colman's horse 'Geronimo'.
under stARTers orders unique fundraiser - life size resin horse
21/03/2019
I have been asked to take part in a creative public arts fundraiser called 'under stARTers orders' 20 artists have been asked to paint a life size resin horse sculpture in their own unique style. All the horses will be sold to raise money for the Irish injured jockeys fund and Sensational Kids. The public will have an opportunity to see the completed sculptures from April to June at various locations including the Punchestown racing festival and various locations around Kildare, culminating in an auction at the Curragh during the Irish Derby weekend.
You can follow the progress of my horse 'Misneach' on my Facebook page and Instagram page (both Sara Hodson Art) and there is the opportunity to see him in the flesh on Sunday 24th March in my studio in Ballygurteen, west Cork.
20/07/2018
Latest news - west cork crafts, exhibitions and projects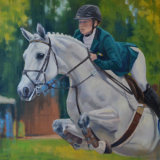 ...more
06/09/2017
The Annual Society of Equestrian Artists Horse in Art Exhibition 2017
...more
06/09/2017
Art classes available September 2017 and January 2018
...more

14/08/2017
I was delighted to be shortlisted for a new prize at the SEA Summer Exhibition at the National Horse Racing Museum in Newmarket, England for my painting 'Final Instructions'.
...more
12/05/2017
I was delighted to be promoted to a Full Member of the Society of Equestrian Artists at their AGM last month
...more
Exhibitions 2017
08/03/2017
Here is a list of exhibitions that I will have work in this year. It will be updated as more information becomes available:
April 29th-May 26th West Cork Art Centre annual members exhibition. Opening 7pm Friday 28th April all welcome.
June 16th-30th Aisling Gallery, Ballydehob. Joint exhibition with Dee Pieters featuring a selection of my current landscape work in watercolour and oil and a few equestrian pieces.
July 10th - 16th National Horse Racing Museum, Newmarket Society of Equestrian Artists (SEA) open exhibition.
September 24th-October 7th ' Horse in Art' Sally Mitchell Gallery, Tuxford Nottinghamshire SEA open exhibition.
Christmas Art and Craft Fairs
28/10/2016
I will once again be attending a couple of Christmas Art and Craft Fairs
I am confirmed at the following:
Sunday 20th November
Rosscarbery Christmas Fair at the Celtic Ross Hotel, Rosscarbery, Co. Cork 12 - 5pm. Always a good fair with many stalls and well attended. Entry is free and proceeds go to the local ladies football club
Saturday 17th and Sunday 18th December
West Cork Art Centre Christmas Fair, Skibbereen Co.Cork. Only in it's second year but if last year is anything to go by another good fair and stalls were booked out early. Good quality art and crafts in a lovely location with mulled wine and music. Opening times 10-5pm on Saturday 11 - 4pm Sunday. Entry is free
Horse in Art Exhibition
28/10/2016
The SEA annual 'Horse in Art' exhibition takes place in Newmarket at the new National Heritage Centre for Horse Racing and Sporting Art. The exhibition opens on November 21st and runs until 4th December. The works will be available to view and purchase online on the Society's website nearer the time. For more details go to http://www.equestrianartists.co.uk/index.php/horse-in-art-2016/
18/06/2016
The Irish Horse Welfare Trust have organised an exhibition showcasing the work of Ireland's top equestrian artists. The exhibition opens with a private view on Thursday 23rd June at 7pm and runs until June 26th at the Irish National Stud in Kildare.
...more
03/06/2016
It is that time of year again when the West Cork Art Centre opens its doors to the the many artists working in the area. This year the exhibition will run from Friday 3rd June until Saturday 9th July. Always well worth a visit and since the opening of the new building there is much more space for a large variety of work. I visited the exhibition three times last year it was great. I have two landscapes in this year and this drawing, a sepia and white pastel head study of a thoroughbred (Faugheen)
...more
Exhibitions and workshops 2016
27/04/2016
Exhibitions
The exhibition program looks something like this and as usual I will add details as and when I get them:
June/July Doswell Gallery, Rosscarbery Co. Cork. A group exhibition that will feature some gallery artists, I have some equestrian work on display.
June 3rd- July 9th West Cork Art Centre, Skibbereen Co.Cork. Annual Members Exhibition. Large group exhibition, I will exhibit some small landscape paintings.
June 23rd-26th Irish National Stud, Co.Kildare. A group exhibition featuring Irelands top equestrian painters and sculptors all commission from the sales of work will go to the Irish Horse Welfare Trust.
November 21st - 4th December 'Horse in Art' Exhibition, National Horse Racing Museum, Newmarket, UK. Society of Equestrian Artists.
Art Classes
Art classes are currently full for the summer term and will recommence in the autumn (provisionally Wednesday 21st and Thursday 22nd September for eight weeks but I will undate nearer the time)
Currently I run a Wednesday evening class in the Doswell gallery in Rosscarbery and a Thursday Morning class in Reenascreena. I may add a new class for the autumn term subject to demand.
07/11/2015
I was fortunate to be invited to exhibit at the Clonakilty Commuity Art Centre for two weeks from October 27th - November 10th.The exhibition comprised of some of the paintings from my previous solo exhibition in Ballymaloe and some new unseen work. You can view the exhibition brochure here [link type="" id="787319"]solo exhibition nov 2015[/link]
...more
'Horse in Art' 2015
20/08/2015
I have had three paintings accepted for the annual 'Horse in Art' exhibition. This will take place in the Sally Mitchell's Gallery in Tuxford, Nottinghamshire and opens on Monday 31st August and runs until 15th September. My three paintings celebrate the wonderful Irish Draught Horse and include the Champion Stallions of 2014 and 2015 from the Dublin Horse show.
More details and a slide show of the work can be found here:
Horse in Art 2015
To purchase any of my paintings ring (00)44 (0)1777 838234 or e-mail sec@equestrianartists.co.uk
Up-coming exhibitions and events (May -June)
15/05/2015
I have three paintings in the Greenacres Gallery 'early summer exhibition' which will run until June 27th in Wexford.
I will also be participating in the Clonakilty organic arts festival which takes place 18th-21st June. My paintings will be displayed in the window of West Cork travel on Rossa Street as part of the arts trail.
The annual members exhibition at the West Cork Art Centre opens on Saturday June 20th and runs until 11th July. It will be the first members exhibition in the new building. I expect to have 2-3 pieces in this exhibition
I will also have paintings in the Doswell Gallery, Rosscarbery from mid May until the end June.
I will add more details as these events happen.
Solo Exhibition 'AN CAPALL' and the painting of AP McCoy for charity.
24/02/2015
I am having a solo exhibition titled 'An Capall' at the Grainstore, Ballymaloe House, Shanagarry, Co.Cork. The Private View with wine reception will take place on Saturday March 28th at 7pm and the exhibition will be opened by the renown equestrian artist Peter Curling. It will continue daily until 12th of April.
This is my first solo exhibition in a long time and it is a celebration of the Irish horse, featuring paintings of horse fairs, horse shows and quite a number of horse racing. Some of the paintings can be viewed on my website but there will be many new paintings and I hope to have an online catalogue to coincide with the exhibition where you can view all the paintings together.
I have donated my painting of AP McCoy to raise money for the Irish Injured Jockeys Fund, and there is a dedicated webpage set up for bids to be taken before the exhibitiion here:
www.32auctions.com/APMcCoy
This will remain open for bidding until 9pm on the 26th March. Final bids for this painting will be taken on the opening night of the exhibition if the target price has not been reached in the meantime.
Upcoming Art and Craft Fairs
01/10/2014
I will be attending the following Art and Craft fairs in the coming months;
November 2nd, Sunday 10.30 - 6pm Rosscarbery Art and Craft Fair, Celtic Ross hotel, Rosscarbery, West Cork
November 15th & 16th Ballymaloe Christmas Art and Craft Fair 10-6pm, Ballymaloe House, East Cork http://www.ballymaloe.ie/events/craft-design-festival-ballymaloe
December 7th, Sunday 12 -5pm West Cork Woman in business Christmas Fair, Celtic Ross Hotel
At each of these events I will have original paintings, framed and unframed, cards, calendars and prints. Hope to see you there!
There may be one or two more fairs/exhibitions and I will update when I have details
Horse in Art Exhibition, London
19/08/2014
I have had three paintings selected for the annual 'Horse in Art' exhibition at the Mall Galleries in London. This exhibition is organised by the Society of Equestrian Artists and runs from 2nd-6th September. It is the largest equestrian art exhibition in the UK and Ireland showcasing some of the best contemporary equestrian art, sculpture and print, including artists from overseas. This year there will also be a section on sketches and life drawings of horses by members of the society. The exhibition is available online and can be viewed until October and work can also be purchased here http://www.equestrianartists.co.uk/index.php/the-horse-in-art-2014-gallery-slideshow/